Tuesday, August 26, 2008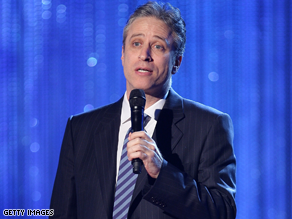 By Sasha Johnson
CNN Senior Political Producer
DENVER (CNN) - As Comedy Central's "Daily Show" descends on Denver for four days of coverage, Jon Stewart took after the "established" media for getting too cozy with candidates and regurgitating campaign spin when it comes to political coverage.
In a breakfast with reporters, Stewart directed most of his ire at the 24-hour cable news networks, which he called "gerbil wheels," and said the media at-large had "abdicated" to what he called the "slow-witted beast."
He said the never-ending television news cycle creates a "false sense of urgency" and forces reporters to "follow the veins that have been mined," instead of pursuing serious and in-depth reporting.
Even as Stewart shredded reporters for, in his estimation, getting too cozy with and used by political candidates, he readily admitted that candidates flock to his show to attract his much sought after younger audience. "It's just one part of their sales pitch," he said....
(Click here for remainder of article).
Read more...