Wednesday, October 21, 2009
My son has cancer. He can't go into day care because of unvaccinated children.
By Stephanie Tatel
Slate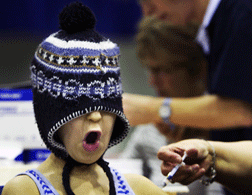 Current public opinion about childhood vaccinations sometimes seems to be influenced less by science and more by
Jenny McCarthy
. But here's something that rarely gets discussed: the threat posed by nonvaccinated on children who are immunosuppressed. Last year, while searching for child care for our 2-and-a-half-year-old son, my husband and I thought we had we found the perfect arrangement: an experienced home day care provider whose house was an inviting den of toddler industriousness. Under her magical hand, children drifted calmly and happily from the bubble station to the fairy garden to the bunnies and the trucks, an orchestrated preschool utopia. But when I asked: "Are any of the children here unvaccinated?" the hope of my son's perfect day care experience burnt to a little crisp. As it turned out, one child had a philosophical or religious exemption—a convenient, cover-all exemption that many doctors grant, no questions asked, when a parent requests one. (I still do not understand how the state can allow one to attribute his or her fear of vaccines and their unproven dangers to religion or philosophy. But that's a question for another day.)
Ordinarily I wouldn't question others' parenting choices. But the problem is literally one of live or don't live. While that parent chose not to vaccinate her child for what she likely considers well-founded reasons, she is putting other children at risk. In this instance, the child at risk was my son. He has leukemia.
What does any of this have to do with vaccinations? While the purpose of chemotherapy is to kill the cancer, it also kills the good cells—most notably the infection-fighting white blood cells. That means my son has limited ability to fight off anything. A single unimmunized child in an ordinary child care setting is the equivalent of a toddler time bomb to him....(
Remainder
.)