Sunday, April 26, 2009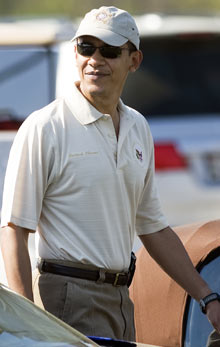 Narrow majority back president's decision to release Bush administration torture memos amid high approval ratings.
By Chris McGreal
The Guardian
A narrow majority of Americans back President Barack Obama's decision to release details of the torture of suspected terrorists and want a legal investigation into whether any laws were broken, according to an opinion poll released to mark the new administration's 100th day in power.
The issue divides the country, with almost half saying that torture is justified in certain circumstances. Another poll shows a similar number believe torture has already led to the collection of valuable intelligence.
Overall, support for Obama has crept up since he took office in January. A poll published in Sunday's Washington Post showed 69% of voters approve of the way he is handling the country. Unsurprisingly, he has the support of nine out of ten Democrats, but 36% of Republicans also approve. George Bush had an overall approval rating of just 37% when he left office.
A poll by the Pew Research Centre showed that 73% of voters - and as many as 46% of Republicans - held a favourable view of Obama as a person even if they disagree with some of his policies....(
Click for remainder.
)
Read more...